Competition Friction Grip Change Plate
Product Detail
Product Tags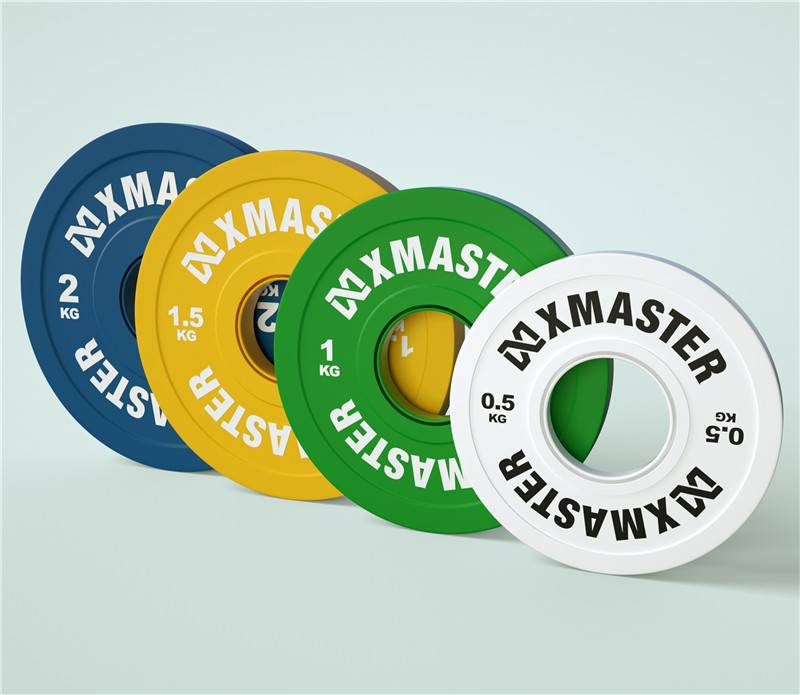 When athletes are pushing their limits and working toward PRs, every fraction of a kilogram matters. Xmaster Competition Friction Change Plates are designed for this purpose, with friction design can lock the plate without collar. We offer six weight increments from 0.5kg up to 5kg, lbs from 1.25lbs to 10lbs.
Each Change Plate has a bold matte finish and a exterior rubber coating for a solid grip on the bar and minimal noise or movement on the lift. Using the column on the below, you can order a pair of plates at any of the available weight increments, or add a complete 25kg set, featuring one pair of each increment.
Weight & Size Increments:
0.5KG (White): 135mm diameter / 12.5mm thickness
1.0KG (Green): 160mm / 15mm
1.5KG (Yellow): 175mm / 18mm
2.0KG (Blue): 190mm / 19mm
2.5KG (Red): 210mm / 19mm
5.0KG (White): 230mm / 26mm
Our Friction Grip change plates are widely used in weightlifting, crosstraining, fitness, bodybuilding and etc. The weight disc are perfect for building strength and built to last. The change plates feature a 92 durometer rubber coating. With a 50.4mm diameter collar opening, these quality plates are compatible with any standard Olympic barbell, it could slides quickly on the bar so that you do not waste time during exercise. Each plate is painted with bright, beautiful colors to look great and help you add the right weight because the color makes them easy to identify. Their White/Green/Yellow/Blue/Red color coding matches the IWF standard-creating a uniform look when loaded.
Please contact us freely if you have any interest about our friction grip change plate.
---
Previous:
Xmaster Olympic Technique plate
---